15% Off Bikini's at Swimwear365
Prepare yourself for poolside glamour with Swiwear365 and receive 15% off our stunning bikini range for one week only!
With great styles, hot colours and fresh designs, you're certain to find the perfect bikini to suit your next holiday at Swimwear365. Whether you're looking for a classic style, something more modern or taking it back to the retro, with our fantastic range of top brands and the hottest bikini trends available, you'll be sure to find just what you're looking for.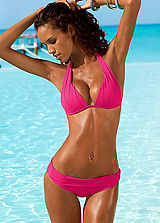 Be a trend setter by choosing from our stunning Spring/Summer Collection that is now available and turn heads this holiday.
To receive 15% off all bikinis, quote S6VP between 22nd – 28th February and shop for your new holiday wardrobe in style!
New Affiliates
Not yet a part of the Swimwear365 affiliate program…you're missing out on our 10% commission rate! Plus, we've got some fantastic joining incentives for January!
Be sure to check out our profile on Affiliate Window
Alternatively, contact us direct at swimwear365.promotions@orangecanyon.co.uk
Tags: bikini, discount, discount code, discounts, holiday fashion, ladies swimwear, new collection, online shop, Swimwear, voucher codes for swimwear