£5 off for new customers, free shipping on Instagram prints, new banners & our new product range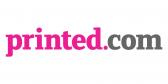 New customers get £5* off their first order at printed.com
Spend £50 and get £5 off your first order using the code 06ANC5 from 1st June to 30th June 2014.
Exclusive discount and offers are available to affiliates too please contact abi@printed.com to talk about an exclusive for your website.
COMING SOON: The Photography Collection from printed.com 
The Photography Collection is a new range of 17 products created and sourced for the photographers who use our site. The collection features framed, canvas and giclée prints, and self-promotional products like brochures, greeting cards and postcards. Many of the products are available in custom sizes and some are hand finished for guaranteed precision.
All large format orders made through our new Photography Collection will be reproduced on Epson Pro Stylus presses for unbeatable depth, clarity and colour-accuracy. We'll be using only the finest quality specialist photo papers and canvases handpicked from Hahnemühle, Innova, Kodak and Epson. We're incredibly excited about the launch of this new collection and hope our customers will be too.
The range will be launching this month – keep an eye out for more information, banners & offers.
Start earning with new display banners
We've got some great new branded printed.com static & flash banners available in the interface.
(images)
As well as some new banners promoting our high quality, low priced business cards.
(images)
FREE delivery on Instagram prints
Earn £1.00 for each Instagram sale with FREE delivery for your customers. Our Instagram offering lets users select photos straight from their Instagram account to be printed as stickers & polaroid style prints.
Use this deep link today.
<a href="http://www.awin1.com/cread.php?awinmid=4878&awinaffid=!!!id!!!&clickref=&p=https%3A%2F%2Fwww.printed.com%2Forder%2Finstagram%2F73" onmouseover="self.status='https://www.printed.com/order/instagram/73'; return true;" onmouseout="self.status=''; return true;" target="_top">Instagram prints</a>
(images)
*first orders over the value of £50 only.
Tags: 5% off, business cards, digital printing, free shipping, instagram prints, photo printing, photography, printed, printed.com, printers, printing, voucher code, vouchercode, vouchercodes