---
Up To 1/3 Off Vitamins In The Big January Sale At Chemist Direct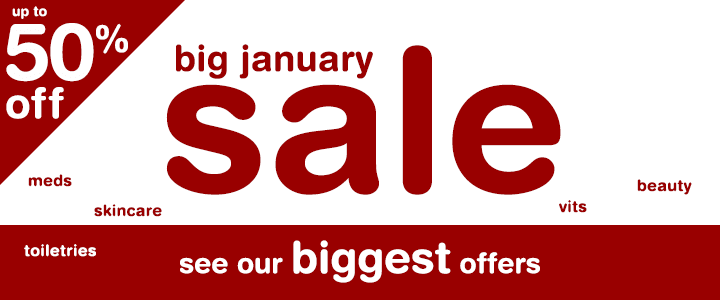 This week Chemist Direct bring you up to a 1/3 off vitamins in the big January Sale. Please click here to see full range.
Abidec Multivitamin Syrup with Omega 3 provides children with 8 of their recommended daily allowances (RDAs) of essential vitamins and Omega 3 fatty acids intake.
Was £5.29
Now £4.76


Jointace Patch are designed for direct application to the skin to provide extra support for joints and muscles.
Was £8.77
Now £7.89


Emergen C Energy Release Immunity Support is a lemon & lime flavoured multi-vitamin supplement.
Was £4.79
Now £3.83


This Healthaid's highest potency Vitamin E. Vitamin E functions as a natural powerful antioxidant, which helps to combat free radical damage to the body.
Was £30.99
Now £24.79


Wholefood Men's Multi Vitamin is a daily multivitamin that is specially formulated to suit the nutritional needs of an active man.
Was £13.99
Now £12.59


Ginkyo One A Day 30 Tablets contain high-quality ginkgo biloba extract to help improve short term memory and concentration by maintaining a healthy circulation to the extremities including the brain.
Was £15.11
Now £12.09



Mens Health Joint Endurance 40 Tablets 20 Days Supply is twice-a-day supplements for improved bone and cartilage support.
Was £11.69
Now £10.52


Seven Seas Pulse Advanced Omega 3 120ml is formulated with a blend of higher strength of pure fish oil - a natural source of Omega-3 nutrients to help support your heart health.
Was £15.62
Now £12.50


Salus Floravital Yeast & Gluten Free Liquid Iron Formula contains organic iron II gluconate, which is a form of iron easily absorbed by the body, together with a carefully considered combination of B vitamins and vitamin C, which together promote growth and maintain health and fitness.
Was £7.89
Now £7.10