---
Up To 1/3 Off Medicines In The Big January Sale At Chemist Direct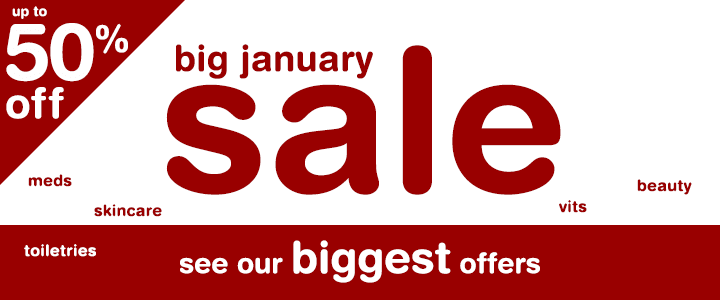 Chemist Direct bring you up to a 1/3 off medicines in their big January sale. Click here to see full range.
Mepilex Lite Dressing is an absorbent, soft silicone dressing with Safetac technology.
Was £3.90
Now £3.51


Zirtek Allergy relieves the unpleasant symptoms and discomfort of hayfever and other allergies, such as sneezing, irritated, runny and blocked up nose, itchy, red and watering eyes and itchy skin rashes.
Was £3.79
Now £3.03


Anadin Extra tablets contain aspirin, paracetamol and caffeine which all help to provide fast, effective pain relief from headaches, aches and pain.
Was £2.60
Now £2.53


Calpol Sugar Free Infant Suspension Sachet gives you 12 sachets that provide gentle pain and fever relief for children 2 years and above.
Was £3.59
Now £2.87


Benadryl Allergy Relief Capsules are fast acting allergy relief, getting to work in just 15 minutes.
Was £3.99
Now £3.59


Lemsip Cold & Flu Lemon Sachets offer relief of the symptoms of colds and influenza, including the relief of aches and pains, nasal congestion and the lowering of temperature.
Was £1.80
Now £1.62


Steroplast Crepe Bandages are made from traditional quality cotton crepe.
Was £1.25
Now £1.13



Dioralyte Relief Sachets Blackcurrant is clinically proven to treat acute diarrhoea as well as replace fluid and electrolytes lost from diarrhoea in both children and adults.
Was £3.89
Now £3.11


Savlon Faster Plaster Boys includes an innovative pull and place system and antiseptic pad to protect damaged skin, prevent infection and aid faster healing.
Was £3.35
Now £3.02