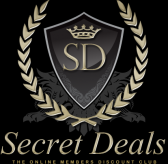 Secret Deals is...
A members-only Deals platform delivering unmatchable discounts on major brand products and services. Our aim is to provide the customer with the best possible price on desirable and in demand goods. We provide deals on a broad range of branded products and services but specialise in in-demand consumer electronics including Smart TV's, Video Games and Gaming Consoles and other related goods. In addition to this we'll also run deals on items such as watches, restaurants, cars, hotels and holidays etc.
The Philosophy:
To create a platform dealing primarily in major brands that combine some of the best elements of a members-only discount club and a "Deals" platform.
Our aim is to give the customer unbeatable value for money on products produced by the big name brands they want to buy such as Samsung, LG, Sony, Hitachi etc.
Our affiliate programme and how it works for you:
We offer access to banners and creative and our product feed to enable you to participate and be healthily rewarded.
A very competitive commission structure:
Our commission rates are structured to be extremely competitive, even on top brand names; incentivising and rewarding you for your participation.
Our launch incentive means that:
Group1 (Hotels, Holiday Breaks & Electronics) = 7% commission (5% base rate)
Group2 (Lifestyle Deals) = 9% commission (7% base rate)
Group3 (Car Deals) = 15% base rate (launches 2014)
Affiliates can potentially earn up to 12.5% commission for additional coverage - please get in touch if you have opportunities!
In addition and as part of our launch incentive; every affiliate partner who generates more than 5 sales within the launch month will be entered into the draw for a brand new *XBox1!
*conditions apply, please request details
Commission tracking:
We operate a last referrer payment rule. If you are the last referrer then you are the affiliate/publisher who will receive the related commission for that sale.
Cashback & Voucher Code Affiliates
Our cashback & voucher code affiliate base rate is 3%