£10 voucher for home & decor (minimum spend £99)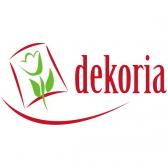 Hello Affiliates,
Live now! £10 voucher for all orders on www.dekoria.co.uk (minimum spend £99). Valid until 30th Sep 2016.
Enjoy a busy September with Dekoria's latest special offer. With choice of over 40,000 home textiles including standard and made to measure curtains and blinds, furniture covers and more we have textiles to suit all styles and colour schemes - and to suit all budgets with prices from £7. Whether it's a complete home makeover or a few touches to refresh the decor, Dekoria has textiles and soft furnishings for all interiors. Simply enter code SEP99 before 11:59pm on 30th September 2016 to redeem your voucher.
All the best,
Dekoria Team
Tags: 10% discount code, 10% voucher code, discount code, discount code blinds, discount code curtains, discount code decor, discount code home, discount code home accessories, discount codes, voucher code, voucher code blinds, voucher code curtains, voucher code home, voucher code home and garden, voucher codes, £10 discount codes, £10 voucher codes