10% Off with FieldandTrek.com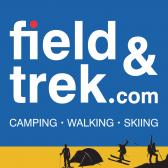 Hi Affiliates,
FiledandTrek.com are offering 10% off all orders over £75!!
With 100's of the finest outdoor products now is the chance to spend and save with FieldandTrek.com.
Full details can be found here:
Message: 10% off all order over £75 with FieldandTrek.com
Valid from: 24th March 2014 – 06th April 2014
Code: AW10FF75
URL:FieldAndTrek.com - Tents, Walking boots, Waterproofs, Travel clothing
Happy promoting!!