---
10% Off Selected Women's Fragrances At Chemist Direct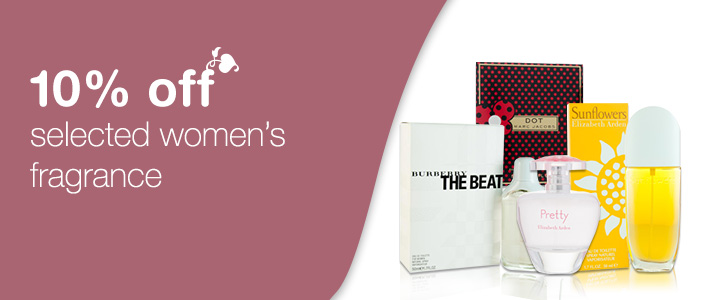 Today we bring 10% off selected women's fragrances at Chemist Direct. Please click here to see the full range.
Fairy Dance Secret Wish is a spicy floral fragrance by Anna Sui. It was released in 2012.
Was £24.99
Now £22.49


Giorgio Armani design house launched Acqua di Gio in 1995 as a scent of lazy summer days and freedom.
Was £49.99
Now £44.99


Place Vendome is a floriental woody fragrance by Boucheron. It was released in 2013.
Was £32.99
Now £29.69


Beyonce Rise Eau de Parfum – An empowering fragrance for women, inspired by the inner strength of Beyoncé.
Was £15.00
Now £13.50


Burberry design house launched The Beat in 2008 as a citrus woody fragrance for women. The Beat is new concept from Burberry as it marks a new type of perfume from existing Burberry fragrances.
Was £29.99
Now £26.99


Burberry design house launched Weekend in 1997 as a powdery floral fragrance for women. Burberry London has a fresh and sensual aura; it is glamorous and elegant, luxurious and light.
Was £31.99
Now £28.79


Calvin Klein design house launched CK IN2U in 2007 as a trendy pair is intended for young generation.
Was £24.99
Now £22.49


Calvin Klein One Shock for Ladies is a bold, fresh and vivid new take on the original One fragrance.
Was £33.99
Now £30.59


Signature is a citrusy floral fragrance by Celine Dion. It was released in 2011.
Was £14.99
Now £13.49


Casmir is an oriental floral fragrance by Chopard. It was released in 1992. Top notes are peach, apricot, black currant, raspberry mango, coconut and bergamot.
Was £24.99
Now £22.49