---
10% Off Orla Kiely & Moulin Roty Code At Cuckooland.com
This week at Cuckooland we are delighted to annouce that 10% off Orla Kiely and Moulin Roty voucher codes have been extended until Sunday 3rd January 2016 - but hurry, these codes are subject to to avaliable stock.
Voucher Codes
Code - 10KIELY
Promotion - 10% off Orla Kiely
Expires - 03-01-2016
Code - 10MOULIN
Promotion - 10% off Moulin Roty
Expires - 03-01-2016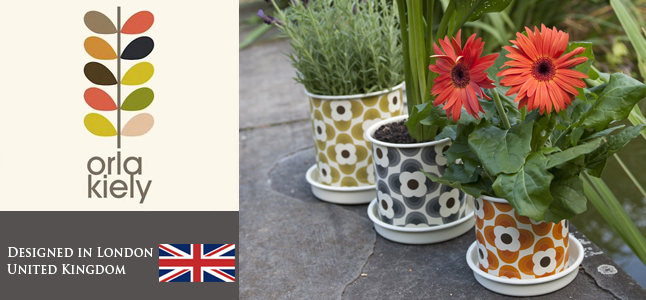 Here at Cuckooland our Orla Kiely Range is a perfect collection for Her, choose from Potting Gloves, Plant Pots, Bird Houses, Tool Boxes, Secateurs, Trowels and Aprons.
Potter away with these retro inspired Orla Kiely enamel pots. A garden essential, your potplants will be the envy of all the shrubs. Comes as a set of three enamel herb pots and tray.
Our Price £39.95
Classic scents and stylish designs make this Orla Kiely gift set a luxury addition to your home. The perfect selection for your bathroom. Complete with Geranium hand wash, hand cream and ceramic dish all presented in a beautiful decorative reusable tin. A stylish selection that would make a gorgeous gift.
Was £22.00
Now £17.00
Save £5.00
The Scribble Stem Orla Kiely Plant Pot with saucer is a stylish garden gift. It will look fantastic in any home and is a lovely gift for women. 2 sizes are available in either medium or large. There are also other garden gifts from Orla Kiely at Cuckooland including gardening gloves, secateurs and other garden accessories.
Our Price £16.99
Spruce up your garden tools with this stylish Orla Kiely gardening spade. Use the wood-handled trowel to tend to veg on the allotment, tidy your flower beds or simply spruce up your balcony pot plants. The wood handled trowel comes with a leather loop for easy storage. A stylish tool for any garderner.
Our Price £19.95
Orla Kiely Home Fragrance Collection. Orla Kiely has created a unique range of scented candles combing her love of nature & her iconic fashion print designs. This luxury scented candles will burn for up to 50 hours and each one includes a heat protection mat. Each scented candle is presented in a decorative glass holder which contains 200g of 100% vegetal wax.
Our Price £19.95
The Beautiful offerings by Moulin Roty is a French toy designer who specialise in traditional toys for children. Take a look at this wonderful collection and you'll find classics such as traditional wooden musical instruments, newborn comforters and ride on toys. You really will be spoilt for choice with this traditional collection of toys.
This brilliantly designed maracas comes in a delightful multicoloured patterns and is the perfect gift option for little aspiring musicians. Decorated with blue on the handle, yellow and red around the outside this brightly coloured instrument is also a great sensory object due to it's patterns and sound.
Our Price £4.95
This lovingly designed tambourine comes in a delightful tree / bird pattern and is the perfect gift option for little aspiring musicians. Decorated with green around the outside and a white centre this brightly coloured instrument is also a great sensory object due to it's patterns and sound. Complete with three sets of small cymbals on the side allows additional levels of fun.
Our Price £4.95
A beautifully crafted "spin" on a classic and timeless childrens toy, the small spinning top features a detailed design that combine soft shades of blue, red and pink sure to amaze and amuse the little ones! With a visually stimulating design aimed to encourage development and built to survive everyday use and more!
Our Price £9.95
This lovely blue childrens squeaky toy is a brilliant item from premium brand Moulin Roty, in a quirky design this little soft toy is suitable from birth and squeaks when squeezed. Offering a sensory experience that is both stimulating with sight as well as sound that encourages development in little ones. This is also a perfect gift idea too!
Our Price £12.95
This unique childrens ring rattle is a premium toy in the shape of a hen character. Encourage play with your little one with a fantastic product from this well known product range. With a tiny hen attached to his side and soft ring material this is a sensory experience as well.
Our Price £14.95