---
10% Off Nurofen Pain Relief Tablets At Chemist Direct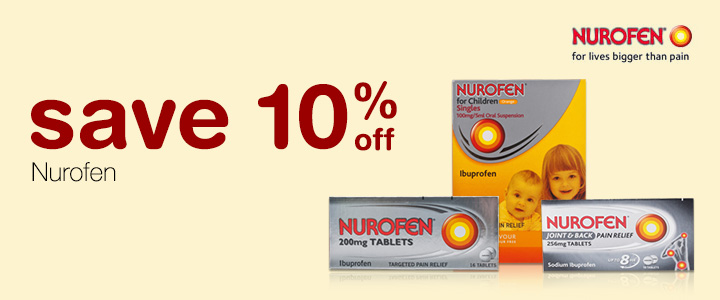 Today we bring you 10% off Nurofen pain relief tablets at Chemist Direct. Please click here to see full range.
Nurofen Plus 200mg Tablets contains Ibuprofen and Codeine for providing double-action pain relief for moderate to acute pain.
Was £7.29
Now £6.56


Nurofen Migraine Pain 342mg helps to provide targeted pain relief for the pain of a migraine.
Was £3.25
Now £2.93


Easily swallowed and quickly relieves pain, Nurofen caplets work where they're needed - at the site of pain!
Was £2.59
Now £2.33


Nurofen Express 200mg Liquid Capsules provide extra strength in a single filled capsule and effective relief from pain, inflammation and high temperatures.
Was £7.29
Now £6.56


Nurofen Migraine Pain is for the effective relief of migraine and headache pain.
Was £5.49
Now £4.94


Whenever you feel a tension headache developing, reach for Nurofen Tension Headache tablets to help ease your tension headache and leave you free to enjoy your day.
Was £3.19
Now £2.87


Nurofen Cold & Flu Tablets offer relief of symptoms associated with colds and flu.
Was £4.99
Now £4.49



Nurofen Day & Night Cold & Flu gives powerful, fast-acting relief from aches, pains as well as severe cold and flu symptoms for up to 8 hours. Quantity: 16 tablets.
Was £4.49
Now £4.04


Nurofen Plus Ibuprofen & Codeine 200mg Tablets offer fast acting relief from general and muscular pains including migraines, headaches, cramping period pain, dental pain, back pain, neuralgia, rheumatic pain, muscular pain and cold & flu symptoms.
Was £5.69
Now £5.12