---
10% Off Nurofen At Chemist Direct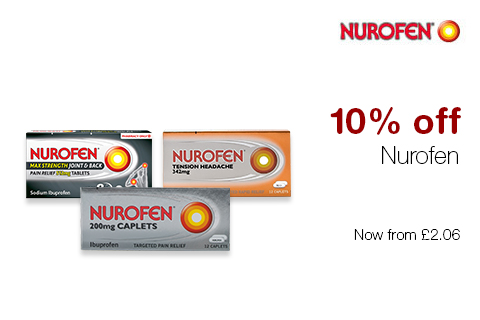 Today we bring you 10% off Nurofen at Chemist Direct now from only £2.06. Please click here to see the full range.
Nurofen Plus 200mg Tablets contains Ibuprofen and Codeine for providing double-action pain relief for moderate to acute pain.
Was £7.29
Now £6.56


Nurofen Migraine Pain 342mg helps to provide targeted pain relief for the pain of a migraine.
Was £3.25
Now £2.93


Nurofen for Children is an ibuprofen suspension that starts to work directly at the source of pain and fever to help ease your childs discomfort, fast.
Was £6.49
Now £5.84


Whenever you feel a tension headache developing, reach for Nurofen Tension Headache tablets to help ease your tension headache and leave you free to enjoy your day.
Was £3.19
Now £2.87


Nuromol Double Action 24 contains 200mg Ibuprofen and 500mg Paracetamol, to give you fast and effective relief from a variety of ailments, including period pains, headaches, and dental and muscular pains amongst others.
Was £6.99
Now £6.29


Nurofen For Children Orange Singles is an oral suspension for babies and children from 3 months designed to relieve pain and reduce fever.
Was £4.99
Now £4.49



Nurofen Sinus & Blocked Nose Tablets contain two active ingredients to relieve sinus pressures, headaches and other cold and flu symptoms.
Was £5.99
Now £4.85


Therapeutic heat patches for treating muscle and back pain.
Was £3.73
Now £3.36


Nurofen Plus Ibuprofen & Codeine 200mg Tablets offer fast acting relief from general and muscular pains including migraines, headaches, cramping period pain, dental pain, back pain, neuralgia, rheumatic pain, muscular pain and cold & flu symptoms.
Was £5.69
Now £5.12