10% Off Double Cylinder Trolley at ESE Direct
ESE Direct Affiliate Newsletter
---
10% Off Double Cylinder Trolley at ESE Direct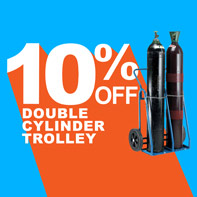 10% Off Double Cylinder Trolley at ESE Direct.
Take advantage of this great offer and help transport standard oxygen and acetylene cylinders between locations such as welding bays and engineering works.
Offer expires - Midnight, 07/11/2021.
Click here to find out more.
Maximum oxygen or acetylene cylinder diameter 240 to 290mm. OACT/RW is fitted with a pair of rear wheels to support load when trolley is lifted out of vertical and in transit. Complete with galvanised retainer chains to hold bottles in place.
Was £199.45 Now From £179.51