10% Off Bi-Directional Snow Plough at ESE Direct
ESE Direct Affiliate Newsletter
---
10% Off Bi-Directional Snow Plough at ESE Direct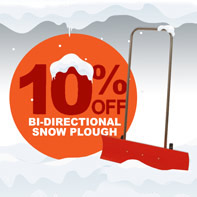 10% Off Bi-Directional Snow Plough at ESE Direct.
Take advantage of this offer and trust this snow plough to make light work of clearning snow this winter with its 870mm blade. Designed to be easy, safe and lightweight to use, the bi-directional plastic blade moves snow the same way with each pass.
Offer expires - Midnight, 14/11/2021.
Click here to find out more.
Makes light work of clearing snow. Easy, safe and light to use. Bi-directional plastic blade pushes snow the same way with each stroke. Suitable for use in up to 5" or 13cm of snow. 6.2kg in weight. 870mm blade width.
Was £94.90 Now From £85.41