10% discount off the entire Cotton Panama range of home textiles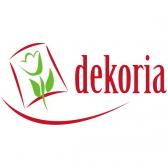 Hello Publishers,
We're excited to announce our latest special for summer.
For a limited time only we're offering a 10% discount on the whole Cotton Panama collection of home textiles, including standard and made to measure blinds, curtains, furniture covers, seat pads, tablecloths and more.
Cotton Panama is our premium collection of  100% heavy cotton fabrics with a lovely woven structure. We offer 19 trendy colours, from neutral whites, greys and beiges to pastels and bring shades ideal for the summer. Resistant to pilling, fading and shrinking, Cotton Panama ensures durability of any products made out of it. Additional teflon treatment makes this fabric stain resistant.
This cotton fabric collection is perfect for all interiors, from lush and shabby chic interiors to minimalist contemporary homes and Scandinavian looks.
Hurry! Offer expires on 11:59pm on 31st July 2017. No discount code required, prices are already updated on www.dekoria.co.uk
Please contact Alicja Szalinska on ali@dekoria.co.uk for any questions regarding this offer or joining our programme.
All the best,
Dekoria Team
Tags: garden, home, offer, offers, promotion, promotions, savings, special offers