10% Commission at Red Carnation Hotels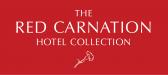 Dear Publishers,
As of Friday 3rd October Red Carnation Hotels will be offering a default 10% commission of for all conversions made via Affiliate Windows.
Boasting 17 award winning 4 and 5 star hotels around the world including 6 in London, 3 in South Africa, 2 in Ireland and 1 in America, there are ample opportunities to promote our luxury hotel collection in a variety of markets around the world.
With an average online transaction value of over £800, and an average offer transaction value of over £2,000 on our "3for2" promotion available via Affiliate Windows, the earning potential of promoting Red Carnation Hotels is vast.
We are happy to speak with publishers directly and arrange preferential commission levels in return for additional support so feel free to contact us at any time at Affiliates@rchmail.com.
Regards,
Red Carnation Hotels
Tags: holidays, hotels, london hotels, Luxury accommodation, Luxury Hotels, promotion, promotions, travel