£10 and £15 discount vouchers across all home & decor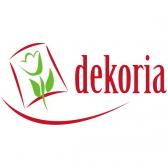 Good morning Affiliates,
Until 31st October Dekoria has a choice of 2 fantastic offers for you. Pick the one you like best and enjoy a strong end of the month with a discount code offer across over 40,000 standard and made measure textiles on our website. Christmas table settings and decorations, curtains, blinds, furniture covers, cushions and much more - we've got everything for beautiful, cosy and warm winter interiors.
Visit www.dekoria.co.uk to view the new AW 2016 collections and make the most of our offers until end of October.
1) £10 OFF all orders over £99
Apply discount code OCTBR10 at checkout to save £10 off any curtains, blinds, furniture covers or anything else on the website with minimum spend of £99.
2) £15 OFF all orders over £150
Save £15 on all orders on www.dekoria.co.uk (minimum spend £150) with code SAVE15st October 2016.
Please contact Ali on ali@dekoria.co.uk if you have any questions. Enjoy!
Tags: Christmas, discount, discount code, discounts, offer, offers, promo code, promotion, promotions, savings, voucher, voucher code, voucher codes