£10 OR £30 voucher on all orders in January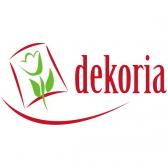 Hello Affiliates,
Happy New Year! We welcome 2017 with a choice of 2 special offers on all standard and made to measure Dekoria home textiles, including curtains and blinds, furniture covers, cushions, bedspreads, tablecloths and more. With over 40,000 products on www.dekoria.co.uk we have the perfect new textiles for all New Year home makovers.
Both offers are live from0:01am on 1st January until 11:59pm on 1st January 2017. Choose from:
£10 VOUCHER ON ALL ORDERS OVER £100 - Our Publishers' favourite offer
£30 VOUCHER ON ALL ORDERS OVER £300 - Bigger spent, bigger savings!
Enjoy a great start of the year with Dekoria, or email ali@dekoria.co.uk if you have any questions before promoting these offers.
Save
Tags: discount, discount code, discounts, home, offer, promo code, promotion, promotions, savings, special offers, voucher code, voucher codes